ElBaradei quits race, says no real democracy in Egypt
Nobel Laureate Mohamed ElBaradei announced Saturday that he would not run in Egypt's presidential elections and criticized the military's grip on power.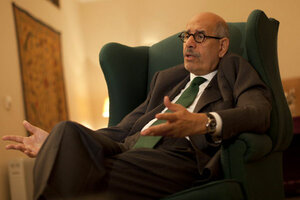 Bernat Armangue/AP/File
Egyptian Nobel laureate Mohamed ElBaradei announced Saturday he would not run in Egypt's presidential elections because the military's control of the country made fair elections impossible.
Though he was not considered a likely winner of presidential elections to be held this year, the announcement by the former head of the UN's nuclear watchdog brings attention to the state of Egypt's transition: Nearly a year after a mass uprising toppled former President Hosni Mubarak, the military rulers who replaced him have not overseen a quick transition to democracy as they promised.
Instead, the generals repeatedly delayed elections, brutally crushed protests, killing dozens of people, and made clear that they wanted control over the process of writing Egypt's new constitution to preserve their power and privilege.
Think you know the Middle East? Take our geography quiz.
"I said from the start that my conscience will not allow me to run for president or any official position unless there is a real democratic framework, that upholds the essence of democracy and not only its form," Dr. ElBaradei said in a statement.
He criticized the military's leadership, comparing the generals to incompetent ship captains, and saying the military was continuing on the same road as Mubarak, "as if a revolution did not take place, and a regime did not fall."
---