'A Separation' probes Iranians' conflicted love for their country, says director
Using a failing marriage as a metaphor, the acclaimed film 'A Separation' juxtaposes Iranians' great love for their country with growing despair that they may be forced to leave it in search of a better life.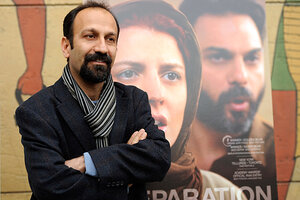 Chris Pizzello/AP
The escalation of global sanctions against Iran has deepened not only the country's isolation from the rest of the world but also fissures within.
The divisions – exposed by the 2009 protests of President Mahmoud Ahmadinejad's reelection – are not only political. They have also seeped into the country's private sphere, fracturing families, alienating friends and colleagues, and creating new tensions in everyday interactions – particularly between the lower-income, often more pious citizens and the more wealthy urban classes.
While ordinary Iranians have continued to live their daily lives, they do so with a latent fear that Iran's social and economic pressures may one day become too much to bear.
A new film, which won a Golden Globe last weekend, depicts these ruptures beautifully – without ever mentioning politics.
In "Nader and Simin: A Separation," director Asghar Farhadi juxtaposes love and despair, Iranians' yearning for their homeland even as they seek to leave it, mirroring the hopelessness many Iranians feel about the future of their country.
---