Rand Paul's TSA moment: airport patdowns around the world
Sen. Rand Paul says US airport security officials are invasive without being effective. How are air passengers treated in other countries?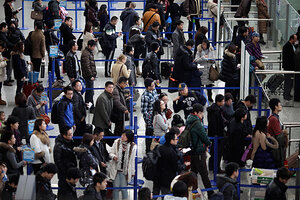 Eugene Hoshiko/AP
When US Sen. Rand Paul (R) of Kentucky set off the scanner at Nashville airport and refused to submit to a more intimate pat-down by Transportation Safety Administration officers, he set off a minor debate about the efficacy of security at US airports.
After the Sept. 11 attacks, American support for aggressive security checks was strong, but in the past decade, bipartisan complaints about the TSA have begun to mount. But while Americans may be getting annoyed at all that wanding, patting, and scanning, there have been very few security incidents at US airports over the past decade. And compared with the intense scrutiny other countries give travelers at their own airports -- in India or England, Israel or Indonesia – it's fair to ask how the US methods compare.
---