Bomb explodes near another security complex in Syria
The blast, possibly from a car bomb, killed two and wounded 30 in Aleppo, Syria. A series of bombs have targeted security installations in recent months as the regime battles an uprising.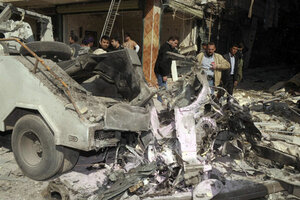 George Ourfalian/Reuters
An explosion ripped through a residential neighborhood in the northern Syrian city of Aleppo on Sunday and the state news agency said it was a "terrorist bombing."
Reports by SANA said two were killed and 30 wounded in what appeared to be the second attack in two days on cities where President Bashar Assad's regime enjoys strong support. Three suicide bombings in the capital Damascus on Saturday killed 27 people. The government blamed those on the opposition, which it claims is made up of "terrorist" groups carrying out a foreign conspiracy.
No one claimed responsibility for any of the attacks.
Mohammed Saeed, an Aleppo resident, said a car bomb exploded near the Political Security Directorate in the city's central neighborhood of Suleimaniyeh. He said the neighborhood has a large Christian population. The Britain-based Syrian Observatory for Human Rights, which relies on an activist network in Syria, also said it was a car bomb. It said it had reports of dead and injured, but gave no numbers.
Saeed said the explosion went off around 1 p.m. and security forces started shooting in the air and cordoned off the area to prevent people from approaching. At that time of day, the area is usually crowded with people, especially on a Sunday, the first day of Syria's workweek, he added.
"It was a strong explosion. It shook parts of the city," Saeed said, citing nearby residents. "White smoke was billowing from the area."
Some opposition leaders accused the regime of orchestrating the attacks to tarnish the anti-government movement behind the year-old uprising against Assad.
Campaign targets Assad strongholds
Both cities are considered Assad strongholds and have remained relatively insulated from the unrest shaking much of the country since the start of the uprising.
---