Egyptian court: Army can't arrest civilians
In what appears to be a setback for military rulers in Egypt, a court ruled against a decree allowing the army to arrest citizens. Activists say this ruling supports the country's constitution.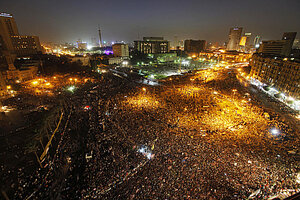 AP Photo/Amr Nabil
An Egyptian court on Tuesday overturned a government decree allowing the army to arrest civilians, a setback for military rulers preparing to hand power to an elected president.
The army-backed interim government issued the decree days before a tense presidential run-off vote on June 16-17 to give soldiers the power to detain people during street disturbances.
But rights groups and politicians challenged the decision, accusing the military of reviving emergency powers that stymied opposition to Hosni Mubarak until a popular uprising ended his three-decade rule in February last year.
On Tuesday, a court agreed with them.
"The court declares in its ruling that the Minister of Justice raped the authority bestowed by the constitution by issuing a decision to give members of the military police and military intelligence powers of arrest," a document from the Cairo court explaining Judge Ali Fikry's ruling read.
The Justice Ministry has the right to appeal the administrative court's ruling, which is effective immediately.
The original decree restored the military's mandate to enforce law and order before a new constitution is written - a process expected to last well beyond the July 1 date by which the ruling military council is due to hand power to president-elect Mohamed Mursi of the Muslim Brotherhood.
---