Will Russia discuss Syria? It appears so.
Kofi Annan, international mediator, aims to arrange a meeting to discuss the Syrian conflict. U.S. officials say, "there are still hurdles to be overcome."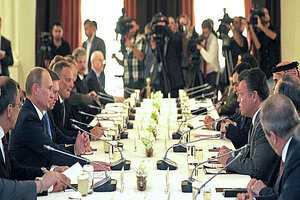 AP Photo/RIA-Novosti, Alexei Druzhinin, Presidential Press Service
Russian Foreign Minister Sergei Lavrov will attend a meeting on the escalating conflict in Syria that international mediator Kofi Annan is attempting to organize in Geneva this weekend, Russia's U.N. Ambassador Vitaly Churkin said on Tuesday.
"Sergei Lavrov has officially accepted the invitation to come to the actual meeting in Geneva on Saturday, June 30," Churkin told reporters ahead of a closed-door meeting of the U.N. Security Council on Syria. "We attach great importance to this meeting."
U.S. officials traveling with Secretary of State Hillary Clinton, who flew to Finland on Tuesday starting a three-nation tour that will see her meet with Lavrov on Friday in St. Petersburg, said no decision had yet been made on her attendance.
"The sticking point is a clear agreement that there needs to be political transition," one senior U.S. official told reporters on board Clinton's plane, repeating U.S. opposition to Annan's proposal that Iran be included in any such talks.
---