An Iranian Olympian carries the weight of a nation
Behdad Salimi, a world champion weightlifter, goes to the London Games bearing the expectations of all of Iran – and is the country's best hope for gold.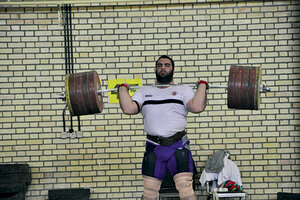 Afshin Valinejad
Up close, the "world's strongest man" doesn't look as if he's been mislabeled. Behdad Salimi is built like a small warehouse. His neck and head seem to be the same appendage. His arms are bigger than most people's thighs. His thighs ... well, just use your imagination, then double it.
Yet when he shakes hands, he is uncommonly gentle. In fact, for a man who can lift the equivalent of three people over his head, he seems downright genial.
Until he grips a barbell, that is. Suddenly, his jaw tightens. His face contorts. Then he lets out a primal shriek – "ya Ali molaye man" (oh Ali, my leader) – and makes unfathomable amounts of tonnage defy gravity.
It's a shout that may be heard all the way to London. As he prepares for the summer Games at a training center here 400 miles northeast of Tehran, the Iranian strongman faces a difficult task: lifting the heaviest weight a man can hoist, while carrying the enormous expectations of a nation on his prodigious shoulders.
Iranians have been disappointed by their inability to qualify for the London Olympics in popular sports such as soccer and volleyball. But Mr. Salimi, the 23-year-old current world champion in the super heavyweight (+105 kilogram) snatch category, is their hope for redemption and recognition. He is the embodiment – the massive embodiment – of Persian pride.
It helps that he is already, literally, the world's strongest man. In 2011 he lifted 214 kilograms (472 pounds) in the world weight-lifting championships in Paris, breaking the record of his fellow Iranian Hossein Rezazadeh – long a childhood icon.
Training at a special camp with a dozen other members of the Iranian national squad, Salimi works on honing his technique and strength. He is methodical and patient. When he makes an attempt and fails, he tries again. When he injures his hand slightly, he continues, unperturbed. His Olympic dream awaits. And all of Iran will be watching.
---