Turmoil in Mali: Is it another Somalia?
Islamists hijacked a long-running Tuareg rebellion in Mali and have turned the north into a strict Islamist state. Here are four key questions about where things might go from here.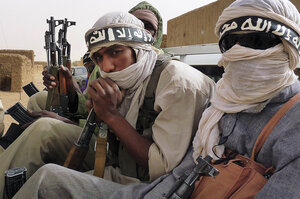 Reuters/File
On April 6, Tuareg fighters and their Islamist allied took control of northern Mali, in West Africa. It was a stunning victory for the Tuareg fighters of the National Movement for the Liberation of Azawad (MNLA). The MNLA was founded in 2011, but it was just the latest of a long string of Libyan-backed rebel groups that had been fighting several West African nations for decades. But the MNLA's victory became a defeat when the MNLA's former allies, rebels affiliated with Al Qaeda, expelled the Tuareg separatists and turned northern Mali into an austere Islamist state. Security experts and West African diplomats now warn that it is turning into a terrorist haven, similar to Afghanistan, northwestern Pakistan, and Somalia. Here's what you need to know.
How does Mali's instability affect other countries and the world?
---