Markets tumble after European bank fails to promise bond bailout
The European Central Bank's announcement today expressed a willingness to prop up the bond market but without providing any specifics on how much it would spend, for how long, or starting when, dashing expectations that the continent had unified around a remedy for the eurocrisis.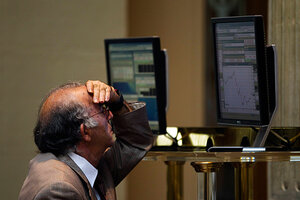 Susana Vera/Reuters
The European Central Bank (ECB) said today it was ready to intervene in the bond market in order to help ailing eurozone economies like Spain and Italy. But the bank's vagueness over how and when it would intervene and the absence of any new ideas to boost the continent's economic growth convinced investors that Europe is still divided over a remedy for its debt crisis. Regional markets tumbled as a result.
ECB President Mario Draghi's announcement had been eagerly awaited by bankers around the world. But he did not, as widely anticipated, give details on how a new bond-buying scheme might work. Instead he remained vague, saying, "The [ECB's] governing council […] may undertake outright open market operations of a size adequate to reach its objective."
European markets fell immediately after the bank's press conference, with the UK's benchmark FTSE 100 dropping by 0.7 percent and the German DAX by 1.4 percent.
"After all, these remain promises," Dan Greenhaus, chief economist at BTIG trading firm, told the Associated Press. "Investors are tired of promises. They want action."
---