For one Saudi woman athlete, participation is a victory
Wojdan Shaherkani lost in an 82-second judo match, but as the first Saudi woman athlete ever to participate in the Olympics, she made history nonetheless.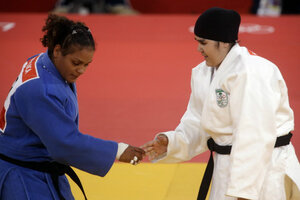 Mike Groll/AP
As Wojdan Shaherkani stepped onto the mat Friday morning at London's Excel Center, she was greeted by a cheering crowd that was eager to watch the girl perform.
Ms. Shaherkani's Olympic debut was brief – the match only lasted around 80 seconds before her opponent struck her to the floor – but she made history today as the first Saudi female athlete ever to compete under the Saudi flag. The London Games are the first to host women's teams from all participating countries.
But this story is about more than one brave girl making feminists proud. Shaherkani's participation marks the defeat of religious hardliners in Saudi Arabia, as the Kingdom moves slowly toward more openness and social inclusion. Her presence at the Olympics – in her white judo outfit and modified hijab head covering – is testimony to the slow reforms Saudi King Abdullah has been supporting to manage political and social change in the Kingdom. In the last year, he has granted women the right to vote and run in municipal elections as of 2015 and guaranteed their full inclusion in the Shura council in 2013.
---