Strong 7.6 earthquake shakes Costa Rica, buildings collapsed
The magnitude 7.6 earthquake Wednesday in Costa Rica collapsed some buildings, landslides cut off the main highway between San Jose and Puntarenas, but no deaths have been reported. A tsunami watch for Costa Rica has been rescinded.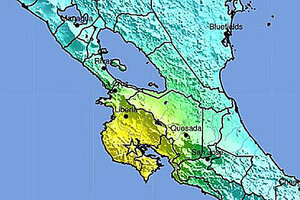 US Geological Society
A powerful, magnitude-7.6 earthquake shook Costa Rica and a wide swath of Central America on Wednesday, collapsing some houses, blocking highways and causing panic, but officials said there were no reports of deaths.
The USGS said the 8:42 a.m. (10:42 a.m. EDT; 1442 GMT) quake struck about 38 miles (60 kilometers) from the town of Liberia. It was centered about 25 miles (41 kilometers) below the surface. The magnitude initially was estimated at 7.9.
In the town of Hojancha a few miles from the epicenter, city official Kenia Campos said the quake knocked down some houses and landslides blocked several roads.
"So far, we don't have victims," she said. "People were really scared ... We have had moderate quakes but an earthquake (this strong) hadn't happened in more than 50 years."
A preliminary review revealed some structural damage near the epicenter, but no reports of deaths or injuries, said Douglas Salgado, a geographer with Costa Rica's National Commission of Risk Prevention and Emergency Attention. He said a tsunami alert had been called off for Costa Rica.
RECOMMENDED: Japan earthquake and narrow escapes
The review also uncovered a landslide on the main highway that connects the capital of San Jose to the Pacific coast city of Puntarenas, Salgado said. Hotels and other structures suffered cracks in walls and saw items knocked off shelves.
---