A 'work boots' diplomat
Chris Stevens exemplified the new people-oriented envoy.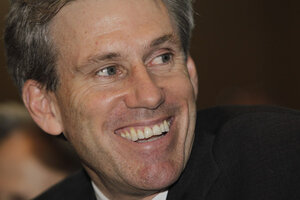 Ben Curtis/AP/File
Chris Stevens exemplified the kind of "boots on the ground" diplomacy that many experts say the United States must practice more. He arrived in Benghazi, Libya, last year aboard a cargo ship to open up shop as the US envoy to the rebels fighting Muammar Qaddafi.
The sandy-haired diplomat known for his easy smile continued practicing his people-oriented version of foreign policy when he took up his posting as US ambassador to a newly democratic Libya in May.
At a reception in Tripoli in August marking the reopening of consular affairs and a return to issuing US visas to Libyans, Ambassador Stevens told The Tripoli Post, "Relationships between governments are important, but relationships between people are the real foundation of mutual understanding."
Stevens was killed in an attack on the US Consulate in Benghazi last month, a tragedy that demonstrated the perils that can accompany a new diplomacy that puts US officials in closer contact with the people who, as Stevens saw it, matter as much as a country's leaders in 21st-century diplomacy.
The former Peace Corps volunteer enthusiastically experimented with the social media he felt could draw him closer to the people whose freedom he had championed. In a sad irony, the expansion of instant global communication would also play a part in his death.
---