Guide to top diplomacy programs
A brief rundown of some of the top schools in the US and Europe that specialize in international relations.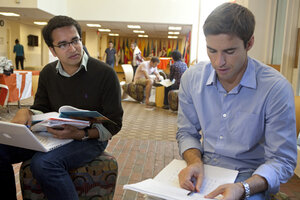 Melanie Stetson Freeman/The Christian Science Monitor/File
These are the top 15 international relations master's degree programs, according to the College of William & Mary's Teaching, Research, and International Policy (TRIP) project's 2011 survey of international relations faculty (IR) in 20 nations. The ranking is a tally of the top five programs supplied by respondents, which were then averaged.
1. Harvard University Kennedy School of Government (established 1936; www.hks.harvard.edu). Two Kennedy School professors, Joseph Nye and Stephen Walt, were ranked on two of the survey's lists of the best and most influential scholars in the field of international relations. Harvard has moved up from No. 3 last year.
2. Georgetown University Department of Government (est. 1922; government.georgetown.edu). Georgetown offers joint degrees in international relations and a master of science in foreign service through its Edmund A. Walsh School of Foreign Service. It was the first to confer a degree in "international affairs." Georgetown was ranked No. 8 last year.
3. Johns Hopkins University, The Paul H. Nitze School of Advanced International Studies (est. 1943; www.sais-jhu.edu). In addition to its Washington, D.C., campus, SAIS has locations in Bologna, Italy; and Nanjing, China.
---