Rise of euroskeptic party in Britain rubs off on Cameron
David Cameron has played up his Britain-over-Europe credentials in the past few days, including at the Tories' annual conference, to stave off the rising euroskeptic UK Independence Party.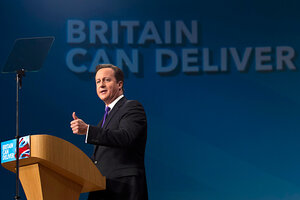 Jon Super/AP
A day after giving his strongest backing yet to a possible referendum on Britain's often volatile membership of the European Union, Prime Minister David Cameron drew cheers from his party's faithful at their annual conference Wednesday as he recounted vetoing an EU-wide accord to coordinate budget policies last year.
"I said no, Britain comes first and I vetoed the EU treaty," said Mr. Cameron, whose party's euroskeptic right wing has more MPs than ever and is clamoring to claw back powers from Brussels, the de facto capital of the EU. Expectations are also growing that he will demand a freeze in the EU budget at a summit next month, allowing him to claim that the UK is not propping up the eurozone.
The Conservative leader's tough approach to Europe this week, however, has also had much to do with neutralizing the threat from the rival United Kingdom Independence Party (UKIP), which recent polls suggest is no longer a marginal player in British politics.
---