In 'eloquent declaration,' Russia opens world's largest Jewish museum
Israeli President Shimon Peres, who was born in Belarus, inaugurated the Jewish Museum, noting its powerful testament to how a country can change.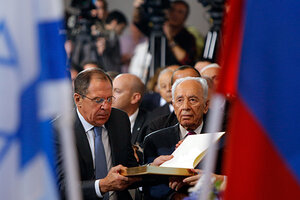 Alexander Zemlianichenko/AP
The world's largest museum of Jewish history opened in Moscow Thursday, marking an extraordinary turnaround for a community that once seemed to have almost vanished from Russia -- a country that was notorious for its official anti-Semitism until barely two decades ago.
The huge museum of Russian-Jewish history, which occupies a former Moscow bus depot, was opened by Belarus-born Israeli President Shimon Peres, who lauded it as a powerful symbol of how nations can change.
"At this emotional moment I can see generations of my people before my very eyes and I carry them with me," Mr. Peres said. "My parents were born in Russia. In my home we spoke Yiddish, Hebrew, and Russian....
"This museum is an eloquent declaration of the principles of tolerance toward people and their freedom. Here we can see man part with the past and move into the future with hope," he said.
The nearly 50,000 sq.-ft., $60-million center uses interactive media technologies, recreations of shtetl (small Jewish town) life, and 13 hours of videotaped personal testimony to tell the story of Russia's Jewish community. It focuses on the past 175 years, which saw Russian Jews move from the Czarist-era Pale of the Settlement (an area of Russia where Jews were allowed permanent residence) into mainstream Russian and Soviet society, face near extinction when the Nazis invaded the USSR, and later chafe for decades under official Soviet restrictions that kept them from many areas of higher education and important state jobs.
---