30 hostages killed? Algerian hostage event over, casualties still uncertain
30 hostages were killed, Reuters is reporting. Other sources have wildly different casualty estimates, but all agree that hostages were killed in the attempt to rescue oil workers.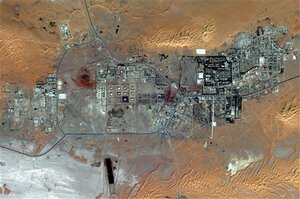 DigitalGlobe / AP / File
Algerian special forces launched a rescue operation Thursday at a natural gas plant in the Sahara Desert and freed foreign hostages held by Al Qaeda-linked militants, but estimates for the number killed varied wildly from four to dozens.
Militants claiming revenge for France's intervention against rebels in Mali seized the Ain Amenas natural gas complex on Wednesday, taking dozens of foreign workers hostage.
Algerian state television said Thursday that four captives, two Britons and two Filipinos, had died. But the militants said at least 35 hostages had died in the state's rescue attempt. Reuters reports 30 killed, including seven Westerners. There was no way to independently verify the toll in the remote location, 800 miles from Algiers.
The reports of high casualties have deeply disturbed foreign governments, prompting a number to criticize Algeria's operation. Britain's Foreign Office attempted to prepare the British public by saying, "We should be under no illusion that there will be some bad and distressing news to follow from this terrorist attack."
Oil prices rose $1.08 on the news to $95.32 on the New York Mercantile Exchange and prompted energy companies like BP PLC and Spain's Compania Espanola de Petroleos SA to try to relocate energy workers at other Algerian plants.
The Algerian government said it was forced to intervene due to the militants' stubbornness and their desire to escape with the hostages.
"An important number of hostages were freed and an important number of terrorists were eliminated, and we regret the few dead and wounded," Algerian Communications Minister Mohand Said Oubelaid told national media, adding that the "terrorists are multinational," coming from several different countries with the goal of "destabilizing Algeria, embroiling it in the Mali conflict and damaging its natural gas infrastructure."
Islamists from the Masked Brigade, a Mali-based Al Qaeda offshoot, who have been speaking through a Mauritanian news outlet, said Algerian helicopters opened fire as the militants tried to leave the vast energy complex with their hostages. They claimed that 35 hostages and 15 militants died in the attack and only seven hostages survived.
---