Pope Francis on abortion, gay marriage, priestly sex abuse, and more
Pope Francis tackled many hot-button issues before being elected pope: The practice of shuffling pedophile priests was 'stupid,' feminism is 'machismo in skirts,' priestly celibacy 'could change,' and more.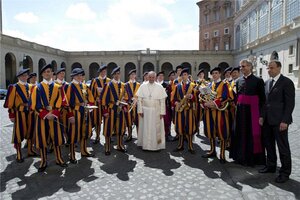 Osservatore Romano / Reuters
Before he became pope, Francis spoke his mind about many of the most sensitive topics the Roman Catholic church faces today. Here is a sampling from "On Heaven and Earth," published in 2012, and his authorized biography "The Jesuit," published in 2010 and republished last month as "Pope Francis. Conversations with Jorge Mario Bergoglio."
PRIESTLY CELIBACY: Roman Catholic priests take vows of celibacy. Some Catholics say they should be allowed to marry, like Eastern Rite Catholic priests.
"For the moment I'm in favor of maintaining celibacy, with its pros and cons, because there have been 10 centuries of good experiences rather than failures. It's a question of discipline, not of faith. It could change."
CLERGY ABUSE: Francis says punishing the priest is more important than protecting the church's image.
"We must never turn a blind eye. ... I do not believe in taking positions that uphold a certain corporate spirit to avoid damaging the image of the institution. That solution was proposed once in the United States: they proposed switching the priests to a different parish. It is a stupid idea; that way, the priest just takes the problem with him wherever he goes."
ABORTION: Francis is against it, from the moment of conception.
"The pregnant woman doesn't carry a toothbrush in her womb, nor a tumor. Science teaches that from the moment of conception, the new being has all the genetic code. It's impressive. It's not, therefore, a religious question but clearly a moral one, based on science."
---