Global education lessons: Australia teaches to test – a better test
As the US moves to the Common Core, it might well look to Australia's victories with testing that promotes effective learning. It hasn't been controversy-free, but the nation is coming to terms with assessment.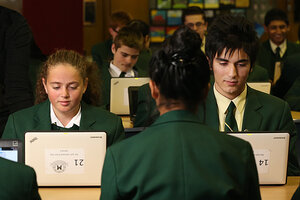 Jane Dempster/Special to the Christian Science Monitor
Sydney, Australia; and New york
Alice Leung has been teaching science in the New South Wales public school system for six years, mostly trying to figure out ways to make herself redundant. "In the end," Ms. Leung believes, "good teachers build up the students so that they can be independent learners and eventually don't need you."
For that to happen, Leung needs to know the strengths and weakness of her students, a diverse group of seventh- through 12th-graders at Merrylands High School in Sydney's western suburbs. For this, she relies on a battery of techniques, ranging from quizzes designed to tell her students' starting point to mind-mapping exercises, games, brainstorming sessions, traditional tests, and tasks on online platforms.
Leung's classroom exemplifies a trend earning Australia accolades from international education experts: testing that promotes effective learning and teaching. This ranges from classroom tests like Leung's to certification tests administered at a statewide level. Here, as in the United States, teachers may find themselves teaching to such external tests; the difference is that the quality of those assessments is much higher than the multiple-choice format the US favors.
Ironically, Australia has recently introduced an additional national layer of assessments with the nationwide standardized testing and curricula that critics worry is a step toward a failed US model.
As the US prepares to roll out testing pegged to the new Common Core State Standards, it behooves American educators to listen in on Australian debate pitting well-established state exams against newer federal tests.
---