Global education lessons: Germany's respected voc-tech path with Meisters
In Germany, more than half of all students take vocational training – and for those not ready, an intensive pre-apprenticeship program "rescues" youths by helping them identify a profession and prep to work with a serious Meister.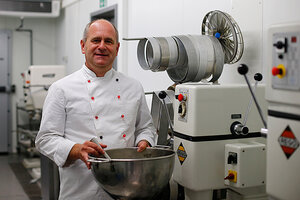 Ralph Orlowski/Special to The Christian Science Monitor
Polish immigrant Mateusz Pintek's German life turned around a few months ago on the day he brought home a strawberry tart, crafted with his own hands. His mother loved it. The praise washed away the bad memories, the school failures.
After arriving from Poland in 2010, Mateusz, then 14, ended up like many immigrant youth: lost. Finding it hard to make himself understood in a foreign language, he dropped out of school. With no school certificate and thus no possibility of getting an apprenticeship, the door to Germany's famous vocational training remained closed.
But Germany's educational rescue program kicked in. Accepted last year into a one-year pre-apprenticeship training class at a vocational college that specializes in the hotel and gastronomy professions, the teen literally put his hands in the mix. By measuring sugar and mixing dough in a prep class, Mateusz started to make sense of theoretical concepts. Two internships at local bakeries – part of the program – raised his interest in the profession. When he graduated from the prep class in July, at age 16, Mateusz had found a vocation, and he also had a ticket for a future: a middle school certificate and a three-year bakery apprenticeship contract.
"He learned that, even if he didn't make it in school, he can be useful to society," says Jörg Stuhlmann, Mateusz's baking teacher at the Bergius Vocational College prep class. "Society judges children on the basis of their grades. Here they make a product, something that tastes good, that people like. They get the chance to be praised for something they've done."
For a century, Bergius has taught middle school graduates to cook and clerk in Frankfurt's hotels and restaurants. It is one of 16 public vocational schools here that train youngsters in 365 officially recognized professions.
---