Can Kenya stop violence after vote?
Government forces are cracking down on protesters in the wake of Thursday's controversial vote.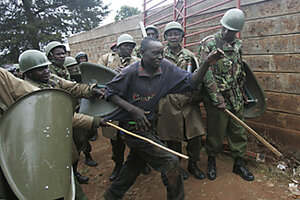 Karel Prinsloo/AP
The thousand-odd protesters carried leafy branches – a standard totem of protest in Kenya – and returned to the slum of Kibera after being turned back, peacefully, by police.
It is a calm exception to the looting, shooting, and tear gas that have followed Kenya's most closely contested presidential election. It is also a sign that opposition discontent – peaceful or otherwise – over the announced victory of incumbent President Mwai Kibaki shows no sign of stopping.
"The international community knows exactly what has happened: Mr. Kibaki lost the election," says opposition presidential candidate Raila Odinga at a Monday press conference. "We will not accept what happened yesterday. It is important that this crisis be resolved peacefully, and we have urged our supporters around the country ... to resist acts of violence."
If the Dec. 27 elections were a test of Kenyan democracy, as analysts said they would be, the past few days show Kenya heading for a failing grade.
Charges of rigging from both major parties, violent protests, and a spiral of ethnic violence – some of it prompted by racist cellphone text messages – have killed more than 120 Kenyans around the country.
"From an outside perspective, it looks like [this election] happened too fast," says Bradley Austin, an election expert at the International Foundation for Election Systems. "I don't think they had all the systems in place that they wanted. And then you add in 2 million additional voters [since the 2002 election], with such a high voter turnout, and you have what you have here."
---