Ethnic violence: Why Kenya is not another Rwanda
Africa Union Chairman John Kufuor is expected to arrive in Kenya Thursday for talks to calm ethnic tensions in the wake of Thursday's disputed presidential vote.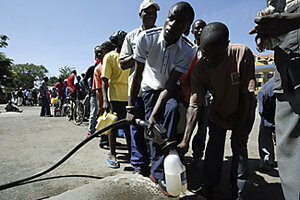 Noor Khamis/Reuters
The ethnic violence that has killed more than 300 people since last Thursday's disputed presidential election has come as a shock for many here in East Africa's most stable and prosperous country.
It carries echoes of Rwanda's 1994 genocide in which more than 800,000 Tutsis were slaughtered in 100 days and it is prompting a flurry of diplomatic activity.
While President Mwai Kibaki and his populist rival Raila Odinga were accusing one another of stoking the ethnic strife, Kenya suffered its worst outbreak of violence yet on Tuesday. An estimated 30 Kenyans of the Kikuyu ethnic group – many of them children – were burned alive after taking shelter from a mob in a church in the western town of Eldoret.
"If you look at what happened in Eldoret, it's genocidal," says Abdullah Ahmed Nasir, a political observer and former chair of the Law Society of Kenya. "It has echoes of Rwanda, and this could be the start of a wave of revenge. If people are killing Kikuyus because they are Kikuyus, then definitely it will spread elsewhere to other [ethnic] communities."
---