Private security contractors look to Africa for recruits
Namibia kicked out two top officials of an international private security firm this fall amid claims the firm was recruiting fighters to work in Iraq and Afghanistan.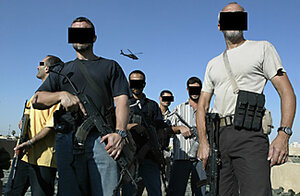 Patrick Baz/AFP/Getty Images/NEWSCOM
Human rights activist Phil ya Nangolo started hearing rumors in the fall about an American security group opening shop here, with plans to recruit thousands of former Namibian soldiers to work in Iraq and Afghanistan.
Many ex-fighters, he recalls, were excited about the arrival of the Special Operations Consulting-Security Management Group (SOC-SMG), an "international force protection" company with clients that include the US Army and Marine Corps. After all, this sparsely populated country in southwest Africa struggles with a 35 percent unemployment rate, and thousands of the country's former independence fighters are jobless.
But Mr. Nangolo, the director of Namibia's National Society for Human Rights, was concerned.
Over the past few years, in Namibia and Uganda, Mozambique, and Burundi, and scores of other impoverished, war-torn countries, American private security companies have increased efforts to hire former fighters for work in Iraq, Afghanistan, and other global hot spots, according to researchers, human rights activists, and those in the private security industry.
---