Positive radio brings calm to tense Kenya slum
Pajoma FM spins African music, reggae, hip-hop – and urges people to stay nonviolent in Nairobi's tumultuous Kibera slum.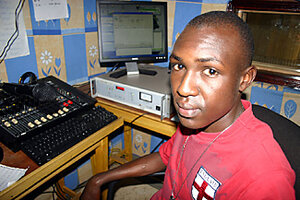 Scott Baldauf
Like most radio stations in Kenya, Pamoja FM broadcasts hours of African music, reggae, and hip-hop – as well as mellow encouragements to remain calm and nonviolent during the country's worst political crisis since independence in 1963.
Located in Kibera, the largest slum in Nairobi, Pamoja (which means "together" in Swahili) and its staff of volunteers provide news for a shantytown of 1.2 million that has become ground zero for the ethnic clashes that have killed more than 500 people and displaced more than 250,000 since the disputed Dec. 27 presidential election.
"We're doing news, but we don't incite people," says Mohammad Abubakr, a hip young volunteer who runs the midday reggae show, aimed at Kibera's youth. Normally, Mr. Abubakr's show covers topics such as the need to avoid drugs, gangs, and teen pregnancy, but since the political crisis, Pamoja has become a clearing house for the sort of basic information that people would need after a hurricane or other natural disaster.
"We don't tell them [who should be] president, and make them want to fight," says Abubakr. "We tell them the situation in Kibera, which shops are open, where there is food, where there is fuel, where they can buy airtime for their cellphones."
Kenya's spasms of violence have waned, but long-simmering ethnic tensions in what was until now East Africa's most stable and prosperous nation remain at boiling point.
---