Cellphones bring a :-) to remotest Africa
Namibia's plucky fix-it industry handles all manner of disaster: Melted phone? No problem. Dead battery? Jump start it with a car.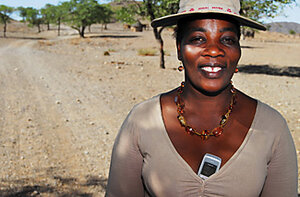 Jeff Barbee
If your cellphone breaks in remote northern Namibia, your best hope rests in the decapitated flatbed of a long-dead Toyota pickup, not far from the only tarred road in the dusty town of Opuwo.
On the flatbed sits an aluminum-sided shack, identified by a hand-painted sign: Okau Cell Part & Repair Shop. Inside you'll see a generator, a car battery, a smattering of dusty pink phone jackets, and a dozen different chargers hanging like sausage in a butcher shop. This is where Jack Nendongo works his magic.
"I do all repairs," he says, watching three women in traditional Himba tribal garb – thick beaded necklaces over bare breasts and animal-skin skirts – walk by. "People here, they must have their cellphones." 
He doesn't just fix phones, he explains. For less than a dollar he charges them – a much needed service in a region where more villages have cellphones than electricity.
Over the past decade, the number of cellphone users in Africa has grown faster than anywhere else in the world.  According to Massachusetts Institute of Technology's Entrepreneurial Programming and Research on Mobiles unit, the continent's cellphone usage has increased about 65 percent annually for the past five years – from about 63 million users in 2004 to 152 million in 2006.
---