Kenya's violence chokes flow of goods to the region
Security concerns are preventing fuel and other goods from leaving a key port.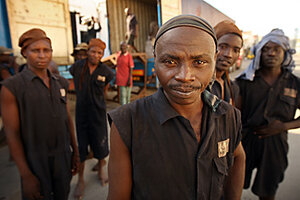 Peter MacDiarmid/Getty Images
Looking out his office window at Kenya's largest port, Mombasa, Wilson Rading counted seven ships waiting to unload. For the director of DFS Express Lines, a small freight logistics company, it was like watching his money sink to the bottom of the harbor.
Mombasa is the largest port between South Africa and Egypt and an essential gateway for goods to Kenya and growing inland economies like Uganda, Rwanda, southern Sudan, and the eastern Democratic Republic of Congo. But the ethnic violence that killed more than 600 people and displaced more than 250,000 in the wake of Kenya's disputed Dec. 27 presidential election has caused a massive buildup in the harbor.
Now, security concerns are delaying the delivery of cargo and fuel across the region, leading to shortages, price hikes, and angry consumers.
---