Namibia turns to world for answers on missing soldiers
Relatives of 'disappeared' fighters hope the International Criminal Court will investigate.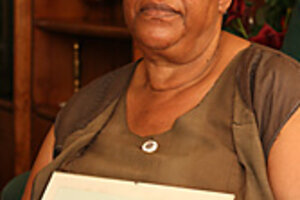 Stephanie Hanes
For years, Christine Goagoses has replayed the events in her head, trying to reach some understanding, or at least peace.
Dec. 24, 1988: Ms. Goagoses's son Joseph Hendricks slips into Angola to join the South West African People's Organization (SWAPO), fighting for independence.
Then: nothing. Mr. Hendricks never came home from Angola. But according to SWAPO, now the ruling party of Namibia, he never died and was never imprisoned.
He is one of Namibia's "disappeared" – soldiers and members of minority ethnic groups who have gone missing during and after the country's struggle for independence. Relatives have sought answers in local courts, rallies, and now the world's latest international justice institute: the International Criminal Court (ICC).
This latest move has caused tremors in Namibia's political circles and raised new hope for Goagoses and other relatives of disappeared soldiers. It has also illuminated the impact of the international court and of other justice efforts, such as truth commissions, which are increasingly popular in post-conflict countries.
These days, many Africans such as Goagoses expect their leaders to address the wrongdoings of the past; if not, they look to the international community. "Forgiveness is the answer of everything in this world," says Goagoses. "But how can there be any reconciliation without acknowledgement? ... Maybe the court can help."
---