Power cuts cripple Southern Africa
South Africa announced Sunday that it will temporarily stop exporting power to its neighbors.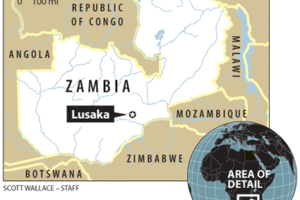 scott wallace - staff
Power outages are a common occurrence in Kabwata, a poor neighborhood in the capital of this Southern African nation, where residents spend many of their evenings by candlelight, cooking with charcoal.
"Our electrical infrastructure is too old. It hasn't been rehabilitated for the last 40 to 45 years," says Given Lubinda, an opposition member of Parliament who represents Kabwata. Power cuts "occur in my constituency on a daily basis, regularly, from 6:00 p.m. to 10:00 p.m."
But when the lights flickered and then shut down throughout Zambia just before 8 p.m. last Saturday night, people immediately sensed that something different was happening.
The lights remained out for nearly eight hours, save for the lucky few with generators. The outage turned out to be the first of three nationwide blackouts over the next four days – part of a sudden regional power crunch that has underscored the fragile state of southern Africa's inter-linked electrical networks.
A national blackout simultaneously hit its beleaguered neighbor Zimbabwe on Jan. 19, and Zambian officials say the two problems were linked. This came amid a major power shortage in South Africa, the region's economic powerhouse, where increasing power cuts across most of the country have caused mounting frustration among businesses and the broader public. South Africa announced Jan. 20 that it will temporarily stop exporting electricity to its neighbors – bad news for countries such as Namibia and Botswana, which have their own power troubles.
---