Safari on foot: Walking with lions in Zambia
The country's unique walking safaris get you out of the jeep and up close and personal with lions, elephants, and hippo droppings.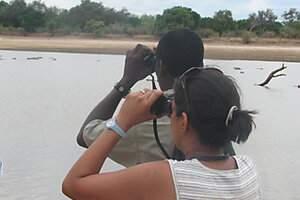 Joe J. Schatz
South Luangwa National Park, Zambia
'If the animal charges, please don't panic. Wait for instructions," said our guide, Abel Banda, with a straight face as we began a walking safari through Zambia's South Luangwa National Park in late October.
The comment is greeted by silence, then nervous chuckles from our motley crew of safari-goers – my wife, Parsa, myself and our four parents.
We needn't have worried. As we walked into the bush that morning, the sun was arching up the sky, the crickets were humming, and the white-browed sparrow weaver was calling – but the lions and elephants were hiding.
Walking in the bush at dawn without the safety and distance afforded by vehicle affords a rare opportunity to learn about plants, animals, birds, and local beliefs up close. And offers more than you ever wanted to know about animal droppings.
Our three-day safari was the centerpiece of a two-week visit by my parents and my wife's parents to Zambia, where Parsa and I moved 18 months ago. She manages an HIV/AIDS program; I work as a journalist.
It was the first trip to Africa for all the parents. Suffice to say, my mother and father, born in western Massachusetts and New York City respectively, and my wife's parents, born in Bangladesh, never imagined they'd come to the middle of southern Africa on a safari.
•••
---