How can Kenya avoid ethnic war?
Former UN chief Kofi Annan launched formal peace talks Tuesday as a fresh round of reprisal killings swept the country.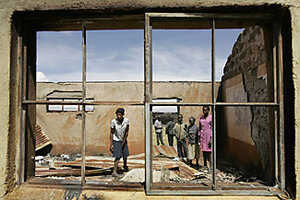 Ben Curtis/AP
Amid the postelection violence that has rocked Kenya, the town of Athi River has been an oasis of calm. Kikuyus, Luos, and other ethnic groups work together, determined not to let the outside chaos come in.
The secret to Athi River's peace, says restaurant owner Simon Kilonzo Kyatha, is that the majority of the population are Kikuyus and Kambas, two ethnic groups that supported the reelection of President Mwai Kibaki. Thanks to safety in numbers, they can avoid the fate of their tribesmen who are being killed or displaced in many other parts of Kenya.
It is peace – backed up by threat. And as a new wave of reprisal attacks begins across the country– more than 150 people were killed in the past few days – Kenya may be at the brink of a spiral of violence unless peace talks produce results soon.
"We don't want our place to be affected by the people of Kibera and Mathare," says Mr. Kyatha, referring to two of Nairobi's most strife-ridden slums. "If a Luo or a Kalenjin comes back here to stir up trouble, we will skin him alive. Let them fight there, but not here."
This scenario – in which ethnic communities keep the peace by separately defending their interests – may bring temporary calm, but some observers worry that it could spell the end of Kenya as a stable, multiethnic nation. Kenyans who once spoke of their nation as a peaceful democracy now speak of the country's Balkanization. As several international efforts to mediate this crisis have failed, Kenyans now realize that to avoid the fate of other African disaster zones, politicians, civil activists, and international mediators must move fast to build trust and find common ground.
---