Kenya vows tougher crackdown
The ethnic crisis is taking center stage at a three-day African Union summit in neighboring Ethiopia.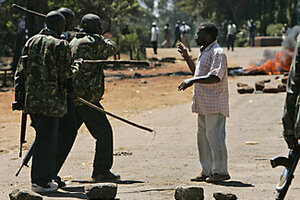 Karel Prinsloo/AP
Nairobi, Kenya; and Addis Ababa, Ethiopia
Dressed in their distinctive green, padded body armor they have become a familiar sight at Nairobi's major intersections.
The Administration Police, armed with teargas and rifles, have been deployed almost daily to ensure that opposition protesters are unable to bring the city to a standstill.
Human rights campaigners have accused officers of inflaming tensions with their heavy-handed tactics, but now that a second round of ethnic clashes this past week has pushed the death toll up to more than 850 since the disputed Dec. 27 presidential election, the government is planning an even tougher crackdown.
During a visit to the Rift Valley city of Naivasha, scene of intense ethnic violence this week, George Saitoti, Kenya's internal security minister, promised tougher action against the gangs responsible.
"This is the work of hooligans and thugs and we have to make sure they don't get their way," he said.
The government on Tuesday demonstrated its willingness to apply heavier force, sending in two Army helicopters to fire rubber bullets over a mob of ethnic Kiuyus in Naivasha as they sought revenge for killings of their tribesmen over the past few weeks.
Mr. Saitoti said the government would tolerate no more violence and would ensure that railways and roads, economic lifelines for Kenya's neighbors, remained open.
But police have already been accused of using heavy-handed tactics such as using live rounds to disperse crowds.
---