If Chad coup succeeds, Darfur crisis could deepen
Rebels stormed Chad's capital, delaying arrival of EU troops to help refugees.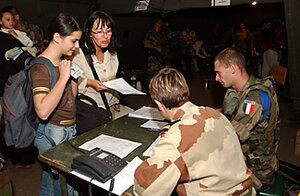 French Ministry of Defense/AP
Johannesburg, South Africa
With rebels in the heart of Chad's capital, N'Djamena, surrounding the presidential palace, the complex Darfur conflict is set to take a dramatic and unexpected turn.
If President Idriss Déby's government falls by military coup, humanitarian aid operations feeding nearly 400,000 Sudanese refugees and displaced Chadians will be thrown into disarray, and half a dozen Darfur rebel movements taking refuge in Chad may be forced to move their bases back into the troubled Sudanese region.
Coming just days before the expected arrival of a European Union (EU) humanitarian protection force in eastern Chad, called EUFOR, the coup attempt is almost certain to delay that deployment until it is clear which government is in charge – the rebels or Déby – and whether EUFOR's presence will still be welcome.
"If the coup succeeds, it will have a tremendous impact on Darfur, because the rally of Darfur rebel movements apparently received logistical support from Déby," says Paul Simon Handy, head of African security analysis at the Institute of Security Studies in South Africa. With Déby out of the picture, Sudan's government will be able to turn its attention to negotiating with the Darfur rebels on its own terms, he adds. "The misfortunes of Déby are the fortunes of Khartoum."
---