As fighting rages in Chad, France's new role revealed
France did not repel this weekend's coup attempt on its former colony as it has in the past, but the UN Monday approved unilateral French action to support Chad's government.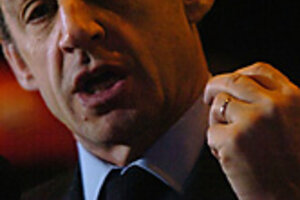 Cedric Joubert/AP
Johannesburg, South Africa; and Paris
As rebels pulled out of Chad's besieged capital, N'Djamena – allegedly to allow the city's 700,000 civilians to flee before the rebels return to take over the country – Chad's ongoing political crisis entered a crucial stage.
Unlike previous rebellions where Chad's former colonial ruler, France, came to the government's rescue, this coup attempt will be left to take its own course, with massive implications for the nation and the nearly 400,000 refugees from Darfur and Chad stuck in camps throughout the country's east.
If Chad's government falls, it will largely be due to France's new policy of neutrality. France has provided its former colony with logistical and intelligence support since the country's independence in 1960. A previous coup attempt by the same coalition of rebel groups in 2006 was turned back, after French Mirage jets fired warning shots at an approaching rebel column.
In a sign that times have changed, France has offered to help Chadian President Idriss Déby flee the country, an offer Mr. Déby pointedly refused.
France's major turnabout reflects both the hands-off philosophy of French President Nicolas Sarkozy, and France's desire to lead a new European Union humanitarian peacekeeping force of troops of 3,700 men (2,100 of them French soldiers) to protect aid convoys to Darfur refugees living in Chad. The EUFOR mission would be the largest common defense mission in European Union history.
---