France backs Deby, may intervene in Chad
After a green light from the UN, France decided Tuesday to scrap its neutrality and help fend off a rebel advance.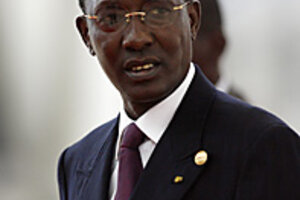 Paulo Duarte/Ap/File
Johannesburg, South Africa
After proclaiming its neutrality over the past few days, France has decided it has the right to intervene to back up the government of President Idriss Déby against thousands of Chadian rebels hovering around the capital city of N'Djamena.
France's about-face came after the UN Security Council told France it had the right to intervene if it felt it was necessary. On Tuesday, President Nicolas Sarkozy told reporters that France would "do its duty" to support the "legitimately elected" government if it was necessary to do so. French Defense Minister Hervé Morin described the decision as a "sword of Damocles" over the rebel forces surrounding N'Djamena.
In any case, Mr. Morin added, the rebels appear to be retreating. "Every day and even every hour that passes shows [Mr. Deby] regaining control of the whole country," Morin told French radio.
Given what is at stake in Chad – a $300 million humanitarian aid operation to look after some 400,000 refugees from Sudan's Darfur region and from Chad itself – the swiftness of the UN's decision to intervene may come as no surprise. But it is a staggering decision nonetheless, intervening in a sovereign country's internal affairs, and could have implications that extend far outside of Chad and into the neighboring conflict in Darfur itself.
---