Ponte City – a South African landmark – rises again
Hijacked by gangs and buried in trash, Africa's tallest apartment building gets a new look: out with the orange shag rugs, in with "Global Fusion."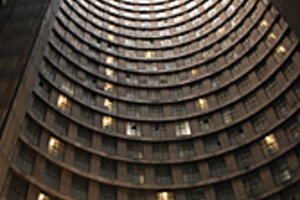 Stephanie Hanes
Johannesburg, South Africa
With bouncing step, Nour Addine Ayyoub walks toward what is known here as "the core."
"Don't look, don't look yet," he says. He stops and leans one elbow on a tired, rusted railing – the only barrier between him and a hundred-foot drop. He's grinning.
"OK," he says proudly. "Look."
Soaring upward is the empty, inner cylinder of one of South Africa's most famous structures: Ponte City, the tallest residential building in the Southern Hemisphere.
Fifty-four stories of dirty concrete and broken windows claw toward a circle of open air; pigeons swoop through the dimness. Below, seven stories, are the exposed, sloping boulders that make up the core's floor. Builders weren't able to blast away the rock to make a flat surface.
"So tell me," Mr. Ayyoub says, still smiling. "Does it make you think of Blade Runner?"
Well, yes. A strange comparison for a developer to make, perhaps – but for Ayyoub and codeveloper David Selvan, who are putting more than $12 million into the Ponte's rehabilitation, the plotline of life, death, and rebirth seems to hold appeal. And apparently this means no shying away from signs of the building's menacing past.
What about the rumor that people got pushed down the core during the 1990s when Ponte City became synonymous with African crime and urban decay?
"Oh I'm sure," he says. "It was Johannesburg."
• • •
---