Chad refugees head home after failed rebel coup
Tens of thousands of Chadians fled when rebels stormed the capital earlier this month. They're returning cautiously.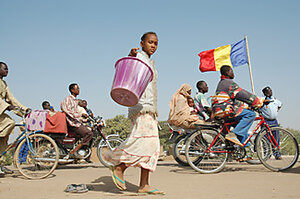 Sarah Simpson
Kousseri, Cameroon; and N'djamena, Chad
Carrying a tired child and a large plastic bag of possessions, Mallon Dgirhoulalimbay and his family are among the thousands walking home to Chad's capital, N'Djamena, after a rebel attack on the city earlier this month forced them to flee to neighboring Cameroon.
He's spent nearly a week in the Cameroonian border town of Kousseri, where he, his wife, and five children have squatted uncomfortably under a tree with their few belongings gathered about them. Though glad to be leaving Cameroon, he knows his troubles are not over.
"I'm going back, but I know it's not going to be easy," says Mr. Dgirhoulalimbay, as he begins the 15-mile walk to N'Djamena from the Cameroon border. "My house is OK, but I hear many things have been looted in town. And if the rebels come back, we'll be running to Cameroon again."
The attempted coup in Chad, which was repelled by government forces last week, has created yet another humanitarian emergency in a region already struggling to cope with hundreds of thousands of refugees. Existing aid operations that keep some half a million people alive in eastern Chad could be jeopardized, says the United Nations. Meanwhile, Chad has threatened to force 250,000 refugees from its territory after blaming them for worsening tensions with neighbor Sudan, which it says backed the rebels who launched the attempted coup.
At the peak of the exodus from N'Djamena last week, more than 30,000 Chadian refugees were officially registered in neighboring Cameroon, though more were absorbed by the local community, making accurate head counts difficult. The UN estimates that 20,000 refugees will remain in Cameroon in the medium term, needing food, water, and other basics. More Chadian refugees are being looked after by authorities 300 miles farther west, in Nigeria.
---
Follow Stories Like This
Get the Monitor stories you care about delivered to your inbox.