In Africa, Bush touts aid efforts, basks in popularity
Mr. Bush has been generally well-received so far on his five-country trip to Africa.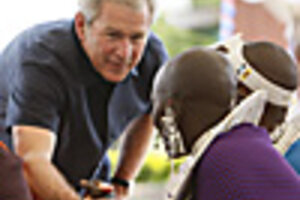 Charles Dharapak/ap
JOHANNESBURG, SOUTH AFRICA
Kwesi Amukwah, who sells Ghanaian soccer shirts, has nothing but praise for President Bush, if only because the world's most powerful leader will pay his western African nation a visit Wednesday. "You look at a small country like Ghana," says Mr. Amukwah, "and he still thinks of us."
His colleague Yaw Asare, adds admiringly, "I like Bush because he is a bold man, when he makes up his mind he just does it." And with this an argument breaks out. Mr. Asare praises Bush's toughness in dealing with Islamist terrorists; Amukwah criticizes the war in Iraq with equal vehemence.
The row fades, and Amukwah offers another explanation for why Mr. Bush and America are so popular in Africa: it still represents the dream of a better life. "American life is better than us – we see it on TV. And there are lots of jobs, but here the economics are not good, we struggle." Asare agrees with this enthusiastically.
Looking through the lens of 2001, it might have been difficult to predict that Africa would become the place on the planet where President Bush would be voted most popular. When Bush and his Republican Party came to power in 2001, the continent was low on the list of foreign policy priorities. Many fiscal conservatives promised to end foreign aid as we knew it, and to focus American tax dollars, diplomacy, and military might where American interests demanded.
---