Bush sees results of his AIDS plan in Africa
The $15 billion relief plan aims to help 1.5 million HIV patients live longer, healthier lives.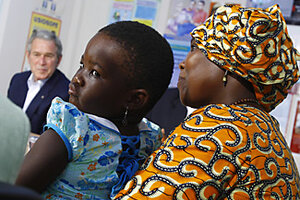 JIm Young
Johannesburg, South Africa; and Kigali, Rwanda
In 2006, when Kau Makgosa was diagnosed with HIV, a new US-funded program provided him with free antiretroviral (ARV) treatment. Now he's healthy enough to plan an ascent of Africa's tallest mountain, Mt. Kilamanjaro, to raise awareness about HIV and give hope to others living with the disease.
"Basically, I'm healthy now, and I think it's impossible to say if it will be for five years or 15 years, but I know I will be around for a long time," says Mr. Makgosa, a Johannesburg social worker who now lives openly with HIV and teaches other South Africans about the disease and its treatment.
When President Bush announced the signature $15 billion President Emergency Plan for AIDS Relief (PEPFAR), there were murmurs of disbelief amid the applause. But five years later, PEPFAR is still the largest and most comprehensive program for HIV patients in history, and may have saved millions of lives. By setting targets of putting 2 million HIV patients on medical treatment, preventing 7 million others from contracting HIV through education programs on abstinence, and providing funding for an estimated 10 million children whose parents have died of AIDS, PEPFAR has made a huge impact in Africa, the continent most affected by the disease.
Now, as Mr. Bush visits Africa on a five-country tour, he is hearing plenty of stories similar to Makgosa's. He may also be hearing muted criticism that PEPFAR could do much more if it was not as devoted to its faith-based message of abstinence and marital fidelity.
---