In Sudan, another conflict could eclipse Darfur
The oil-rich region of Abyei could become the next flash point between Arab and African Sudanese.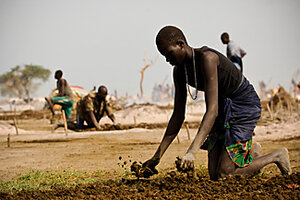 Micah Albert/Zuma Press/Newscom/File
Darfur is the more recognizable conflict, but another, arguably more explosive, battle is brewing in Sudan.
This potential flash point is Abyei, a small, ethnically diverse enclave on the border between the Arab north and the African south. Now, a dispute is under way over who should control the district – a power struggle infused with ethnic rivalry, marginalization, politics, and greed.
Split between Arabic-speaking nomads and non-Arabic-speaking farmers, Abyei is a territory where cultures once blended, but where a sharp dividing line has been drawn between two political forces that fought a civil war to a draw.
After a failed US-led mediation effort, Abyei has become a rallying cry for war. What's at stake? Pastureland, oil wells, and the continuation of a three-year-old peace deal that ended the 20-year civil war that killed more than 2 million Sudanese.
"It's like Kashmir, where you have two big entities – the National Congress party leading the country from Khartoum for nearly 20 years and you've got major rebel groups on the other side, and both sides will not compromise on Abyei," says John Prendergast, an antigenocide advocate for the Enough Project in Washington. "Then you add in oil, with the industry involved," and that raises the stakes even higher.
---