'Brand Mandela' – how to control the value of a legend
Mandela comics, coasters, and clocks aside: How does South Africa celebrate its most celebrated man on his 90th birthday?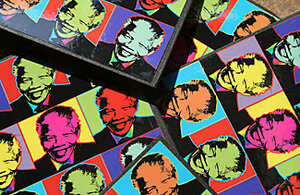 Stephanie Hanes
Johannesburg, south africa
In South Africa, Nelson Mandela is everywhere. His smiling face is on T-shirts and coasters and handbags and wall clocks. Soccer teams compete in the Nelson Mandela Challenge Cup, and children read the "Madiba Legacy Series" comic books ("Madiba" is the affectionate clan name for Mandela).
It hardly stops there.
The Nelson Mandela Foundation, the Nelson Mandela Institute, the Nelson Mandela Children's Fund, and the Mandela Rhodes Foundation all work for social good; cities, schools, ports, and even a shopping mall have named themselves after the former president. At the airport, a stall sells "presidential" style patterned shirts – the type favored by Madiba.
And on and on. Call it Brand Mandela – a label that a Mandela attorney once estimated was second only to Coca Cola in global recognition.
"I think he'd hate to consider himself a brand, but it's about what he stands for," says Patrick Collings, a former journalist who wrote about the end of apartheid and is now an advertising consultant. "In this world we have very few statesmen, elder statesmen, who are able to retain a voice of importance, of influence, that people listen to and seek out. I've referred to him as a lasting brand."
---