Zimbabwe opposition claims election win
President Robert Mugabe's government warns that premature victory claims would be seen as a 'coup.'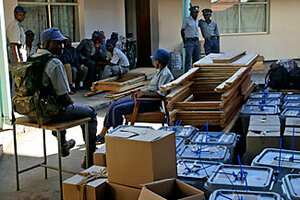 AP
Johannesburg, South Africa; and Harare, Zimbabwe
– Casting their votes Saturday, Zimbabweans have made up their minds on whether they want another five years of President Robert Mugabe.
The answer, according to preliminary results monitored at polling stations by opposition activists and independent observers seems to be an unqualified "no."
But with no official results announced by Sunday night, tensions were rising in the capital, Harare.
Now all eyes are turning to Mr. Mugabe's ZANU-PF Party, and especially his well-armed military and security agencies.
Senior police, intelligence, and military commanders have all said they would not salute a "puppet," referring to top opposition candidate Morgan Tsvangirai. One senior ZANU-PF official even warned opposition activists not to declare premature victory, saying that the government would treat this as a "coup."
Yet if the military commanders order a clampdown on opposition supporters, will their soldiers – as poverty stricken as much of the rest of the country – follow them?
"There's a lot of talk about people's power at the polls, but a change of leadership will only happen if the military joins the masses," says Henri Boshoff, a military analyst at the Institute for Security Studies in Tshwane, as Pretoria is now called. "The question now is, what will the military do?"
---