Churches call for calm as Zimbabwe awaits election results
With tension building as results from Saturday's elections trickle in, religious leaders are calling for restraint on all sides.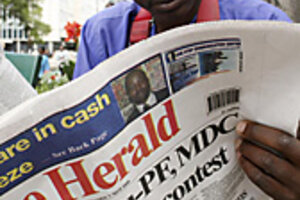 Philimon Bulawayo/Reuters
Bulawayo and Harare, Zimbabwe
With tensions rising, as Zimbabweans await the slow release of results from Saturday's national elections, church leaders are appealing for peace and restraint.
Foremost was the Fellowship of Christian Councils in Southern Africa (FOCCSA), which urged calm from the Zimbabwean electorate, party supporters, political leaders, and security agencies alike.
Of course, the pace at which the Zimbabwe Electoral Commission (ZEC) has released results would test the patience of Job.
By Tuesday morning, the ZEC had only released results for 132 parliamentary seats, giving opposition leader Morgan Tsvangirai's Movement for Democratic Change (MDC) 68 seats, including six for a breakaway faction. President Robert Mugabe's ZANU-PF party had 64.
The commission has offered no results in the presidential race.
Raised expectations by the MDC, which declared a landslide victory late Saturday night, and dire warnings by the ZANU-PF machinery of harsh consequences for any civil unrest, have sent warning bells of potential conflict, especially if Mr.Mugabe is declared the victor.
"We therefore appeal to political leaders to pursue the path of peace and to refrain their supporters from violence, during this period and after the elections. We also appeal to the ZEC to speed up the process of election announcement," said a FOCCSA spokesman.
---