Charcoal fuels the economy and deforestation of Mozambique
Santos Junior Guilaza makes charcoal for a living – he and legions of people like him literally fuel the engine of rural souther Africa.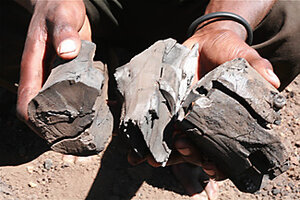 Stephanie Hanes
Santos Junior Guilaza's hands are calloused, burned countless times by the smoldering wood he separates, barehanded, from the dark, steaming dirt of his earthen kiln. His bare feet are leathery and flattened from trekking over this overgrown land – from his bamboo-and-thatch hut, past increasingly rare trees, and to the road where he, like thousands upon thousands of others, sells the charcoal that fuels southern Africa.
"I go by foot," he says matter-of-factly as he guides a visitor through shoulder-high grasses that can slice skin like fine razors. ("Watch for the snakes," he warns.)
Mr. Guilaza has been chopping trees and making charcoal for as long as he can remember. It's what his father did and his grandfather, too. It's what all the men do in this village, not far from the crocodile-thick Pungue River. And it's how legions of impoverished people throughout the developing world stay alive.
Charcoal is more portable than simple wood, and can be made with trees, earth, fire – and sweat. In regions where electricity and money are scarce, but physical toil is not, the fuel is everywhere. In Mozambique, for instance, the government estimates that charcoal is the main fuel source for 80 percent of the population.
This causes intense international hand-wringing. It has given purpose to dozens of nongovernmental organizations (NGOs), has prompted countless academic papers, and concerns environmentalists watching the world's trees disappear.
Along with South America, Africa loses forests at a faster rate than almost any place on earth, according to the UN Food and Agriculture Organization. Many farmers use a slash-and-burn process, cutting forest and burning the remaining vegetation to plant crops in the temporarily rich soil. Logging – illegal and legal – clears large amounts of forests. But almost half of Africa's forest loss is a result of people chopping trees for firewood or charcoal, estimates the UN Billion Tree Campaign.
---