Regional leaders: 'What Zimbabwe crisis?'
Leaders of the southern African region met in Zambia this weekend for an emergency summit on Zimbabwe's increasingly tense electoral impasse.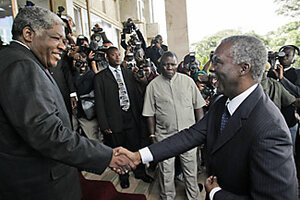 Themba Hadebe/AP
Bulawayo, Zimbabwe; and Lusaka, Zambia
The possibility of a runoff vote increased last weekend, as Zimbabwe's Electoral Commission (ZEC) announced plans for a recount in 23 districts, enough to wipe out the opposition party's margin of victory in the March 29 election.
In neighboring Zambia, an emergency meeting of regional heads of state urged calm in Zimbabwe and again called for the speedy release of results after two weeks of unexplained delay.
Yet while Zimbabwe has remained calm over the past two weeks, there are ominous signs of trouble ahead. Police and pro-government militias arrested journalists and attacked opposition activists, as the main opposition party – the Movement for Democratic Change – continued to insist that it had won the elections outright and would reject any calls for a runoff vote against President Robert Mugabe.
"Zimbabwe is sitting on a powder keg that can explode at any moment," says Gordon Moyo, director of Bulawayo Agenda, a coalition of civil society groups in Zimbabwe's second largest city. Speaking of the statement by the Southern African Development Community (SADC) in Zambia, he adds, "Their statement says that all the parties should accept the results, when already the ruling ZANU-PF party is recounting the results, opening boxes, tainting the results. We are told that we should accept the results without qualification, when the results that come up will be cooked results."
---