Zimbabwean officials fear prosecution if Mugabe loses
Top ruling party members are jittery about being tried in international courts.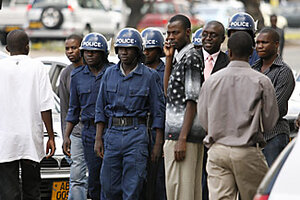 Howard Burditt/Reuters
Bulawayo and Harare, Zimbabwe
Defeat is never easy in politics, but it seems especially hard for Robert Mugabe's ZANU-PF party, which has steered Zimbabwe through 28 years of ruinous and often brutal rule.
Harsh crackdowns against dissent, starting with the "Gukurahundi" massacres that left more than 20,000 people dead in the early 1980s to the crackdown against university students in 1988 to the land invasions against white commercial farmers in the late 1990s have created a long list of potential human rights violations by senior members of ZANU-PF.
Prosecution for involvement in these alleged crimes – and for rampant corruption – has given many top ZANU-PF leaders another compelling reason to hang on to power in the wake of Zimbabwe's disputed March 29 elections.
Recent examples of former African dictators – most notably Liberia's former President Charles Taylor who's now on trial for war crimes in The Hague – provide caution for any official facing defeat.
Small reason, then, that ZANU-PF officials and top military commanders are expressing reluctance to hand over power to the opposition candidate Morgan Tsvangirai, who has pledged a clean sweep of government and a redress of past crimes.
"We cannot allow our liberation war hero [Robert Mugabe] to be humiliated like [former Iraqi ruler Saddam Hussein]," says a senior ZANU-PF politburo member in Harare, who requested anonymity.
---