Africans' newest form of dissent: blogs
From Congo to Chad, dissidents are taking their grievances online. But are some rebels going too far?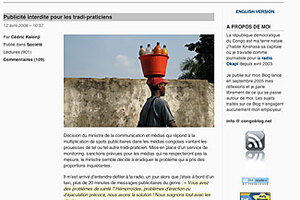 Screen grab from www.congoblog.net
Kinshasa, Democratic Republic of Congo; and Dakar, Senegal
From his kitchen table in the bustling capital of the Democratic Republic of Congo, Cédric Kalonji types an entry on his blog, in which he writes about the many problems facing his country while trying to avoid government censors.
"I am Congolese and I talk about what is happening around me – the truth," Mr. Kalonji says. "When my neighborhood floods and there is no irrigation so I have to take off my shoes to walk through it, I have the right to complain."
The blog, on the website congoblog.net, is read by thousands of people around the world, receives about 250 pageviews per day and has won international awards including the prestigious Best of Blogs (BOBs) award for the top French-language blog in 2007.
"Blogging allows me to be a middle man for Congo, between those in power and those without any, thanks just to free Internet and a small digital camera," says Kalonji, who does not have an Internet connection in his house and detects a nearby wireless signal on his laptop computer to update his blog.
Kalonji is among a growing number of bloggers in Africa who are using their websites to question or challenge their governments. But, although Internet access is slowly becoming more affordable and available in Africa, bloggers say their audience is still mostly outside the continent.
Kalonji says it is difficult to be on the cutting edge of technology while in a country where computers and digital equipment are hard to find and can sometimes cost twice as much as in the United States.
Bob LaGamma, director of Washington-based advocacy group Council for a Community of Democracies, says that despite these logistical challenges, bloggers in Africa are opening up new avenues for free speech.
---