China slammed for arming Zimbabwe's Mugabe
China said Tuesday it may turn away a ship full of weapons headed for Zimbabwe's leader.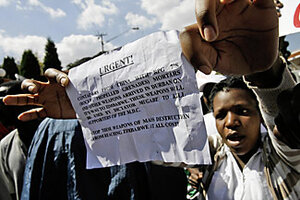 Jerome Delay/AP
NAIROBI, KENYA; and BEIJING, CHINA
Hammered by criticism over its own human rights record and perhaps worried about its reputation ahead of the upcoming Summer Olympics, China signaled Tuesday that it might turn around a ship full of arms bound for its longtime ally, Zimbabwe.
The ship had docked first at South Africa's main port, Durban, where South African dock workers refused to offload the nearly 3 million rounds of AK-47 ammunition and thousands of rounds of rocket-propelled grenades and mortars, all bound for the troubled regime of Zimbabwean President Robert Mugabe. Mozambique, Angola, and Namibia have also said the ship is not welcome in their ports.
The apparent withdrawal of the arms shipment by China comes at a time of growing criticism from African leaders for Mr. Mugabe's iron-fisted handling of his domestic opposition in the March 29 elections – where Mugabe's party fared badly in parliamentary elections and where the presidential results have still not been released.
---