World to Peace Corps: Skilled volunteers needed
Debate is brewing over how the agency can attract greater numbers of older, more experienced volunteers. One key target group: retiring baby boomers.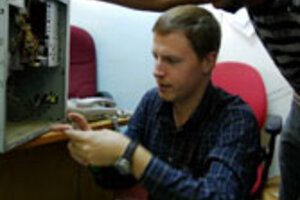 Nicholas Benequista
If the Peace Corps wishes to help in the fight against HIV/AIDS, it needs to send expertise, not just youthful zeal. That was what Ethiopian officials politely told Peace Corps country director Peter Parr when he approached them last summer with a proposal to send a batch of volunteers to work on the pandemic.
"[HIV/AIDS] is serious business and requires serious people with commitment and capacity," says Meskele Lera, deputy director of the Ethiopian agency overseeing efforts to stop the spread of AIDS, who attended that first meeting with Mr. Parr.
Despite Parr's best efforts, however, about half of his volunteers are straight out of college and still need to be told not to arrive at the office in flip-flops.
But this may be changing. The Peace Corps is no longer just dispatching Americans abroad to teach English or help in the fields. It is tackling more complex issues, like HIV/AIDS and environmental degradation, which creates an impetus for the Peace Corps to professionalize. Now debate is brewing over how the agency can attract greater numbers of older, technically skilled volunteers.
Those skilled volunteers may come from the droves of retiring baby boomers.
The Peace Corps has already moved to welcome them, most recently under director Ronald Tschetter, who has tried to attract this demographic by making the medical screening less onerous, and by recruiting from both the AARP, and the retired teachers' association. The number of applications from people over 50 has risen by 60 percent since Mr. Tschetter began actively pursuing retirees in September, according to Joellen Duckett, a Peace Corps spokesperson.
---