U.N. force makes progress in Darfur
Security has improved slightly in parts of Sudan's troubled western region, but only 9,000 of the 26,000 peacekeeping troops have been deployed so far.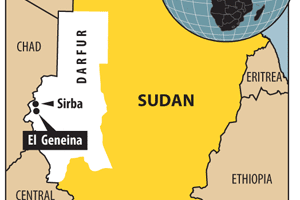 scott wallace -staff
Despite multiple peace efforts, the crisis in Sudan's western region of Darfur often appears only to deepen as time goes on.
On a recent day, for example, armed men ransacked shelter after shelter, says Sheikh Abdulrahman Hassan Yussuf, a tribal leader trying to protect his people in a camp for displaced people just outside the capital of west Darfur, El Geneina.
"They were looking for women," he says, standing in the moonlight outside a deserted food distribution center. "There were more than 20 of them – janjaweed," he says, referring to the feared government-backed Arab militias.
But now security is beginning to improve.
Lieutenant Adeyinka Adeyemo, of the United Nations-African Union Mission in Darfur (UNAMID), turns to his translator and asks him to relay a message to the sheikh. "Ask him how we can catch these people. Tell him I will come to catch them. All he has to do is phone me," says the Nigerian officer.
Behind him an armored personnel carrier disappears into the narrow sandy tracks that criss-cross the camp.
This was once a no-go area for the beleaguered, 7,000-strong African Union (AU) force charged with trying to bring peace to Darfur. Outgunned by rebels and powerless to take on government-allied militias, they had become increasingly confined to their bases.
But on January 1 they changed their green helmets for UN blue and resumed night patrols as part of a hybrid force comprising both the UN and AU.
Sheikh Abdulrahman says the presence of international peacekeepers has already helped security.
---