Why white Zimbabwean farmers plan to stay in Nigeria
Farmers who moved to Nigeria after being kicked off their farms by President Robert Mugabe say they won't return to the land they love even if Mugabe fails to emerge victorious in the disputed March 29 election.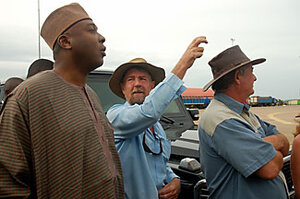 Sarah Simpson
A jet carrying a herd of Jersey cows touches down at an airstrip in the Nigerian countryside, transporting dairy cows from South Africa.
Their new owners, a small group of white farmers from Zimbabwe, watch as the herd clip-clops down the gangplank. The farmers casually contemplate flying back to homes they lost to President Robert Mugabe's supporters. But whatever the outcome of Zimbabwe's disputed presidential poll, they are not likely to be returning to the land they love soon.
"My heart would want to go back, but my brain would say no," says Susan Mactavish, who's spent her whole life in Africa and now lives on a 1,000-hectare (2,471-acre) farm in Nigeria's west-central Kwara State. "I've put too much into this place to abandon it."
Zimbabwean farmer John Sawyer says he would look closely at the Zimbabwean economy before reinvesting in farming there. Zimbabwe's infrastructure and services have decayed as Africa's breadbasket has turned basket case with hyper-inflation of 165,000 percent and 80 percent unemployment. The seized farms have largely failed, and nearly half of Zimbabweans are malnourished.
---