Zimbabwe opposition: Will they join a runoff vote?
Ongoing violence may impede a runoff between President Robert Mugabe and the opposition's Morgan Tsangirai.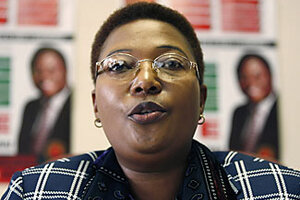 Howard Burditt/Reuters
JOHANNESBURG, South Africa; and HARARE, Zimbabwe
More than a month after Zimbabwe's elections, the country's main opposition party, the Movement for Democratic Change (MDC) continues to insist that it has won the March 29 election against President Robert Mugabe's ZANU-PF party and does not need to participate in a planned runoff.
By restating its claimed victory, the likelihood of further confrontation between the two parties increases at a time of severe economic crisis and as pro-government militias continue a campaign of violence against opposition activists.
MDC vice president Thokozani Khupe echoed the party line on Saturday, telling journalists in Harare that the MDC had won more than 50 percent of the vote in the first round.
"We are convinced that the run-off is unnecessary considering the clear mandate that the people of Zimbabwe showed when they voted for change, dignity and jobs," Ms. Khupe said. "The MDC wishes to reiterate that this election was clearly won by the MDC.... It is for this reason that in the unlikely event of a run-off, the MDC will once again romp to victory by even a bigger margin."
---